Safety camera sensors safeVisionary2
26 Jun 2023
Safe 3D environment perception opens up new dimensions
With the world's first 3D time-of-flight camera with performance level c safety certification, SICK is opening a new dimension in safety technology. safeVisionary2 allows safe three-dimensional environment perception that you can use to increase the safety and efficiency of your applications. Thanks to the precise measurement data, the camera also reliably solves automation tasks, thus eliminating the need for you to purchase additional hardware components. safeVisionary2 has a compact, rugged design and is versatile and reliable when used for everyday industrial tasks.
At a glance
3D time-of-flight camera with performance level c
Up to 4 m protective field range
2 simultaneous protective fields and 8 monitoring cases
Measurement data output via Gigabit Ethernet
Compact shock- and vibration-resistant design with enclosure rating IP65 and IP67
Tried-and-tested intuitive Safety Designer configuration software

Increasing safety, raising productivity
With the safeVisionary2 3D time-of-flight camera, you gain new perspectives. Thanks to the safe 3D environment perception of the device, you expand your existing applications to include new options that increase the productivity and safety of your machines and systems.
Outstanding data quality thanks to 3D time-of-flight technology
safeVisionary2 is more than just a safety camera sensor. In addition to the safety functions, the camera offers precise 3D measurement data that can also be used in a variety of ways.
Fits perfect
safeVisionary2 has a compact design and is reliable and versatile in everyday industrial use. You also benefit from a high level of user-friendliness and save time during installation and configuration.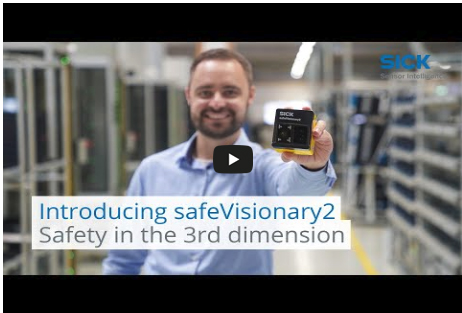 Your Benefits
Solve your safety applications simply and efficiently – with the safe 3D environment perception
Use the precise 3D measurement data for automation tasks, e.g., contour-based navigation for your mobile vehicles
Benefit from the user-friendly configuration, commissioning and diagnostics
Versatile in use and effortless to integrate, even when the installation space is limited
High availability, even under mechanical loads and during continuous operation – no moving parts due to the measurement technology used